Seamus' Beer Tasting Show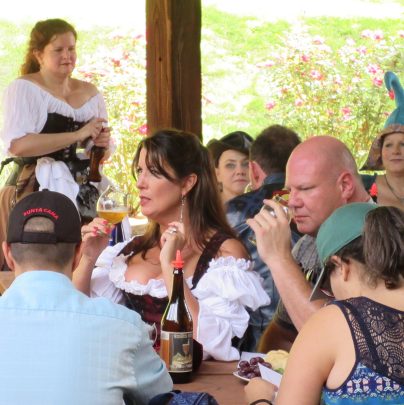 If beer is your thing, join Scarborough's own Certified Cicerone®, Seamus Norwood, as he guides you through how to taste beer, it's making, pairing it with food, and fun historical facts about this most popular libation. Sometimes funny, often bawdy, and always educational, Seamus hosts at the Village Green at Noon and 3:00pm, with a new theme and new beer every weekend.
Each tasting features six wines, a fruit and cheese plate to enjoy at your table, and a commemorative wine glass as your souvenir. Seating is limited, so purchase tickets early, either online and upon your visit to the festival.
Our beer tastings are for ages 21 and up (no minors present during the show) and are $30 per person. Seating is limited.
Get Your Tickets Early – Tastings WILL Sell Out!
If tickets are sold out online – there may still be tickets available at the Village Green on the day of your visit. Please check with the Village Green upon your arrival.
2019 Themes & Weekends
April 6 & 7
Beers of Texas
April 13 & 14
Beers of Belgium
April 20 & 21
Beers of the British Isles
April 27 & 28
Flagship Beer
May 4 & 5
American Craft Traditional
May 11 & 12
American Craft Creative
May 18 & 29
Beers of Germany
May 25, 26 & 27
Seamus Suggests