Jousting
Cheer for your favorite knight as you enjoy the thrilling competition and remarkable displays of chivalry at the full combat, armored jousts presented by Noble Cause Productions.
Jousts take place at 11:00 am, 2:00 pm and 5:30 pm each Festival day at the Joust Arena in Pecan Grove.
Birds of Prey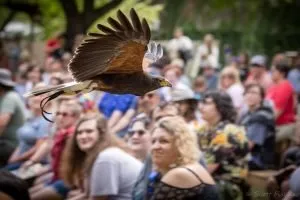 Get up close to incredible birds of prey such as falcons, hawks, eagles, owls and even vultures that are featured in the amazing Birds of Prey exhibitions.
Learn about their astonishing skills and hunting prowess in this exciting educational program presented by the non-profit Last Chance Forever the Birds of Prey Conservancy.  Exhibitions take place at 11:00 am, 12:30 pm, 2:30 pm and 4:30 pm at the Falconry Stage in Crown Meadow.
Stage & Lane Entertainment
20+ stages and the Festival lanes feature unique entertainment such as sword fighting, whip masters, comedians, acrobats, aerialists, escape artists, jugglers, Scottish bagpipes and other music, belly dancing, Renaissance dancing, puppeteers, combat competitions and much more!  Scarborough's shows are very interactive – you never know when you might become part of the show!
The majority of the shows are PG with some that are specifically designed for young children.  There are also a handful of shows that are geared to a more mature 16+ audience.  See the schedule here!
Performing Company
Scarborough Renaissance Festival also has an extraordinary 100+ member performing company, Scarborough Academy of Performing Arts (SAPA), that brings the 'village of Scarborough' to life.  They portray the royal court, visiting dignitaries, villagers and peasants alike and perform throughout the Festival site. Additionally, there are a number of shows that are conducted by SAPA members such as the Children's Knighting Ceremonies, Country & Court dances, combat competitions and more.
Kids' Favorite Shows
There are so many different shows to enjoy! Some of the Kids particularly enjoy are Accidental Acrobats, Cirque du Sewer, The Don Juan & Miguel Show, Emrys Fleet's Big Rat Show, Fireflicker the Dragon, Harmless Danger Juggling Show, Kamikaze Fireflies, The London Broil Show, Maypole Dance, The Nature of Mercy, The Pinwheel Sideshow, Sir Real the Puppet Man, and the Syndicate School of Sword & Skill.
Mermaid Lagoon
Scarborough's Mermaid Lagoon offers you the chance to meet and interact with live mermaids in a unique tropical setting. The Mermaid Lagoon is the perfect addition to your Scarborough Renaissance Festival visit!
The Mermaid Lagoon is open daily: 11:00am – 12:30pm, 1:30 pm – 3:00 pm and 4:00 pm – 5:00 pm
Knighting Ceremonies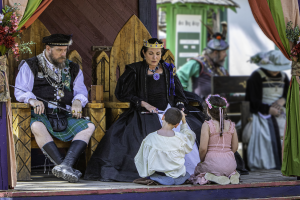 Children of all ages are invited to be presented to Their Majesties to be recognized for acts of courage and deeds of meritorious service.  Each participant will receive a seal that names them a Knight of the Real or a Lady of the Court; a lasting memento of their day at Scarborough Renaissance Festival.
The Knighting Ceremony takes place daily at the Royal Marquee at 4:00pm.
Grande Parade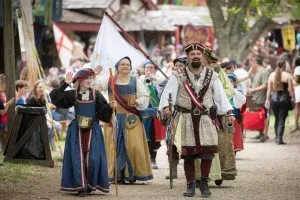 Villagers, artisans, nobles, and knights join together every day at 1:00pm to parade throughout the Village of Scarborough.
See banners hoisted high and catch a glimpse of the Village artisans, the Royal Court, the royal Guard, and Their Royal Majesties, King Henry VIII and Queen Catherine Parr..
Games & Rides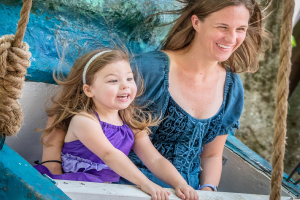 Test your aptitude at games of skill throughout the Festival, take a ride back to the past with elephant, camel and pony rides and experience Renaissance rides that are all human powered! Get all the details here.
Cash only is accepted at the additional attractions and games & rides.